by admin on Jan.19, 2010, under News & Announcements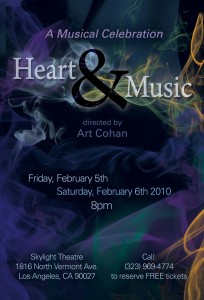 Hello Friends & Fans!
I'll be playing the drums at a free event coming up this February 5th & 6th
HEART & MUSIC
THE SKYLIGHT THEATRE
1816 Vermont Blvd
Los Angeles, CA 90027
(in the Los Feliz Village Next to the Cinema)
Starts at 8pm
Call for your Free Tickets today!  (323) 969-4774
~TV
No comments for this entry yet...