by admin on Sep.22, 2010, under News & Announcements
TOMMY VILLAFRANCA wrapped the pilot for "SMOKED" an original comedy web series he co-created.  Pilot episodes were written by co-creators John Anthony Bruno and Josh Newell.  The three met while working at Amblin Entertainment in the late nineties.
"I reconnected with John and Josh during the run of A HATFUL OF RAIN and we discussed doing a project together.  Starting with an existing concept from one of John and Josh's previously shot pilots we re-invented the concept to fit the political climate of today's discourse on medicinal marijuana and the movement to decriminalize and legalize its use.  Its comedy works more in the vein of CHEERS.   Instead of it taking place at a bar in Boston, it's a dispensary in Venice Beach and shot in a contemporary style similar to CURB YOUR ENTHUSIASM and IT'S ALWAYS SUNNY IN PHILADELPHIA."
Also stars Matt Lowe as ANDY,  Michelle Lawrence plays series regular MEGAN, Aviva gives a cameo appearance, Brynn Thayer plays the recurring COUNCIL WOMAN SABIO, and Joe Cardinale plays OL' MR. BROWNE.
I have to thank Richard Lawson, Allen Barton, Art Cohan and Gary Grossman for continuously challenging us to produce our own projects. There is no excuse for not making your own material.  THE BANNAN WAY is recent evidence of the success of that philosophy.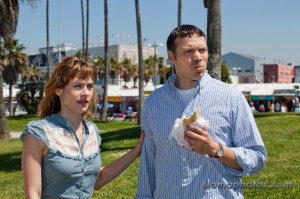 For SMOKED we will utilize our connections with Amblin/DreamWorks and shop it to networks and their web sites known for developing new material for TV and the internet.  It really is the way of the future.   I'm excited to be leading that future with the next generation of actors who are filmmakers and who dare to pick up a camera and create their own career.
No comments for this entry yet...